This is the essential guide for beginners who are ready to buy their first setup. We look at all of your equipment options and explain everything from cables and speakers, to controllers and digital vinyl systems.
Choosing DJ equipment when you're first starting out can be difficult. With so much selection and so many brands to choose from it's really hard to know what equipment to add to your setup. Some of you may just be unfamiliar with certain types of hardware and what it actually does. Others may be completely new to DJing. So this beginners guide to DJ equipment has been designed to help you on every step.
We'll look at all of your choices and go through the function of each specific piece of equipment. I'll also give you different options and recommendations based on personal experience.
If you are unfamiliar with the different DJ setups you can read my accompanying article to get a good understanding.
So lets start the beginners guide to DJ equipment with the traditional form of DJing that's still very popular. If you read the recommended article above you'll know that this is known as the traditional setup. We'll look at the turntable first. Find out which one are the best true wireless earbuds.
Beginners guide to DJ equipment
DJ mixing was born in the 1970's when DJ's discovered that you could use two turntables to blend two music tracks together. As DJing progressed, DJ's discovered that you could use the pitch control on the turntable to beatmatch the records. Beatmatching is the term used for getting two different tracks playing at the exact same number of beats per minute (BPM).
Turntables are very basic but they provide all you need to output audio, beatmatch, and to scratch. All DJ turntables feature a powerful motor that keeps the records spinning at the correct revolutions per minute (RPM). The RPM can then be switched between 33 and 45 RPM using a simple touch button. This RPM can then be adjusted more finely to beatmatch using the pitch sliders.
The most common DJ turntable was the Technics 1200/1210. Unfortunately Technics no longer make these, but there are some other great options. Manufacturers saw the gap in the market and jumped at the opportunity to fill the void. Pioneer's PLX 1000 that's pictured above is the current DJ's favourite.
See my comparison of the Pioneer PLX 1000 and the Technics 1210 when we put them head to head to discover which one is the best >
Once you have your two turntables you will need a way to transition between the two records. So next up in the beginners guide to DJ equipment we'll check out mixers…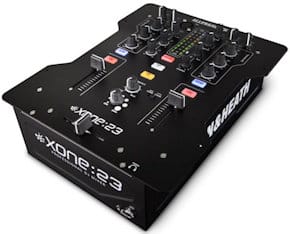 DJ Mixers and their Functions
A DJ mixer is used for transitioning between the two records on your turntables. Many DJ mixers can be very overwhelming to beginners as they feature multiple channels and functions. Extra channels and special functions are nice to have when you become more experienced, but all you really need is basic functions to pull off a great mix.
The basic mixer with everything you need to get started will feature all of the following.
A Crossfader
Also known as the xfader, this is the fader that slides left or right to switch between the two turntables (channels). The crossfader will always be situated in the centre of the mixer at the closest point to the DJ. Crossfaders can eventually wear out, but good mixers will feature a replaceable crossfader.
Channel Faders 
Also known as up faders, channel faders, line faders, or channel sliders. These faders will control the volume of each channel and can be used to quickly cut the volume, They can also be used to fade tracks in/out while keeping the crossfader central. Turntablists will also use the channel faders for cutting and scratching.
A Three Band EQ
The EQ functions are used to control certain frequencies of your music tracks. Some mixers only feature a 2 band EQ, some feature a 4 band EQ. But the 3 band EQ is the most popular and will suffice. The EQ panels will usually be situated above the channel faders in a row, they'll be labelled low, mid, and high.
EQ's will be used while transitioning between two tracks to keep the different frequencies matched, and to stop certain sounds clashing. This is called mixing and will also be used in conjunction with the next important feature of a mixer…
Gains
The gains are sometimes also labelled as trim, or input. These are basically volume knobs and will be used to set the tracks at the correct volume to avoid fluctuating levels throughout the mix. They will be used in conjunction with the EQ to keep your levels right and to avoid clipping. The gains will usually be situated directly above the EQ panel in the same row as the channel they control.
VU Meters
The VU meters are the lights that jump along to the beat of your music. They are used for keeping your volume levels in check and to prevent audio clipping. A full explanation of audio clipping can be found in the EQ article above. But audio clipping is bad and can damage equipment and ruin speakers.
That covers the main features you need to look for when buying a DJ mixer. Mixers will always include other features that will be standard on any brand. This usually includes a master gain for controlling the main output volume. A headphone panel that includes a headphone volume, and sometimes a cue mix. The cue mix is like a mini headphone crossfader that will only fade between tracks in your headphones, and not the main volume.
You'll also get various input/output terminals on the rear of the mixer. You'll want phono inputs for turntables, and line inputs for multi players and CDJ's (we'll get to these shortly). The master outputs will run directly to your amplifier or active speakers. Some of you may also want a microphone input, these can usually be found on the back or front.
Some DJ's may want a few more features, or the ability to play from multiple audio sources. So next in the beginners guide to DJ equipment we'll look at multi players, CDJ's, and something called a DVS. Check out my hardware section to see some great mixers. Or find the best mixers on the market.
DJ Multi Players and CD Decks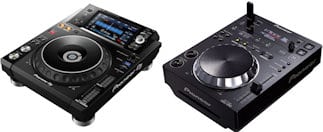 Multi players and CDJ's can also be used in the traditional DJ setup with, or instead of turntables. The sources that you can play from will depend on the player you chose and how much you pay for it. Multi players will generally let you play from a variety of audio sources including computers, USB storage devices, and iPads/tablets. Modern CDJ's will let you play from CD's, USB devices and computers.
They've been designed to mimic the traditional turntable and work very similarly. They will have a platter that you can touch to stop, cue, spinback, and scratch a music track. They'll also have a pitch slider to adjust the BPM of your tracks to beatmatch. Beatmatching tends to be much easier on multi players and CDJ's because of the BPM counters and digital readout.
The features on different players vary and what you get will always depend on what you spend. As you can see on the Pioneer XDJ-700 pictured above on the left, some multi players have a waveform to show you a view of your track. Players usually tell you track info like the name, length, time elapsed etc. And most will feature the ability to create loops and cue points.
Some people will choose a CDJ/multi player over a turntable because of the extra features on offer, and the ability to play tracks from a computer. But as a beginner you may not be aware that you can also use turntables to play music from a computer.
Check out the Pioneer XDJ 700 on Amazon and see the current price here -> Pioneer XDJ-700
Read on to find out how, or find out all of your options for mixing with using a laptop or computer HERE.
A digital vinyl system (DVS) lets you play and mix any track from your computer using just two records. These records are known as timecode vinyl. You can read my post for a full explanation on timecode vinyl and digital vinyl systems HERE.
The records will basically send information to your computer about turntable speed, direction, and track position. This makes the timecode vinyl work exactly like a traditional record. So you can mix, scratch, spinback, and cue records in the normal way.
If you plan on buying turntables, vinyl prices and finding a place to store records may put you off. In this case a DVS will be a necessity and will save you thousands. See the suggested article above for more.
You may be wondering how to set all of this up. Where to plug certain cables, how to link up computers etc? You can find all you need to know in my article – HERE. Click on the link and scroll down to – How to set up DJ decks and equipment.
The next equipment we'll look at in the beginners guide to DJ equipment is the DJ controller. This way of mixing is probably the most popular choice for beginners, it will also offer great value for money.